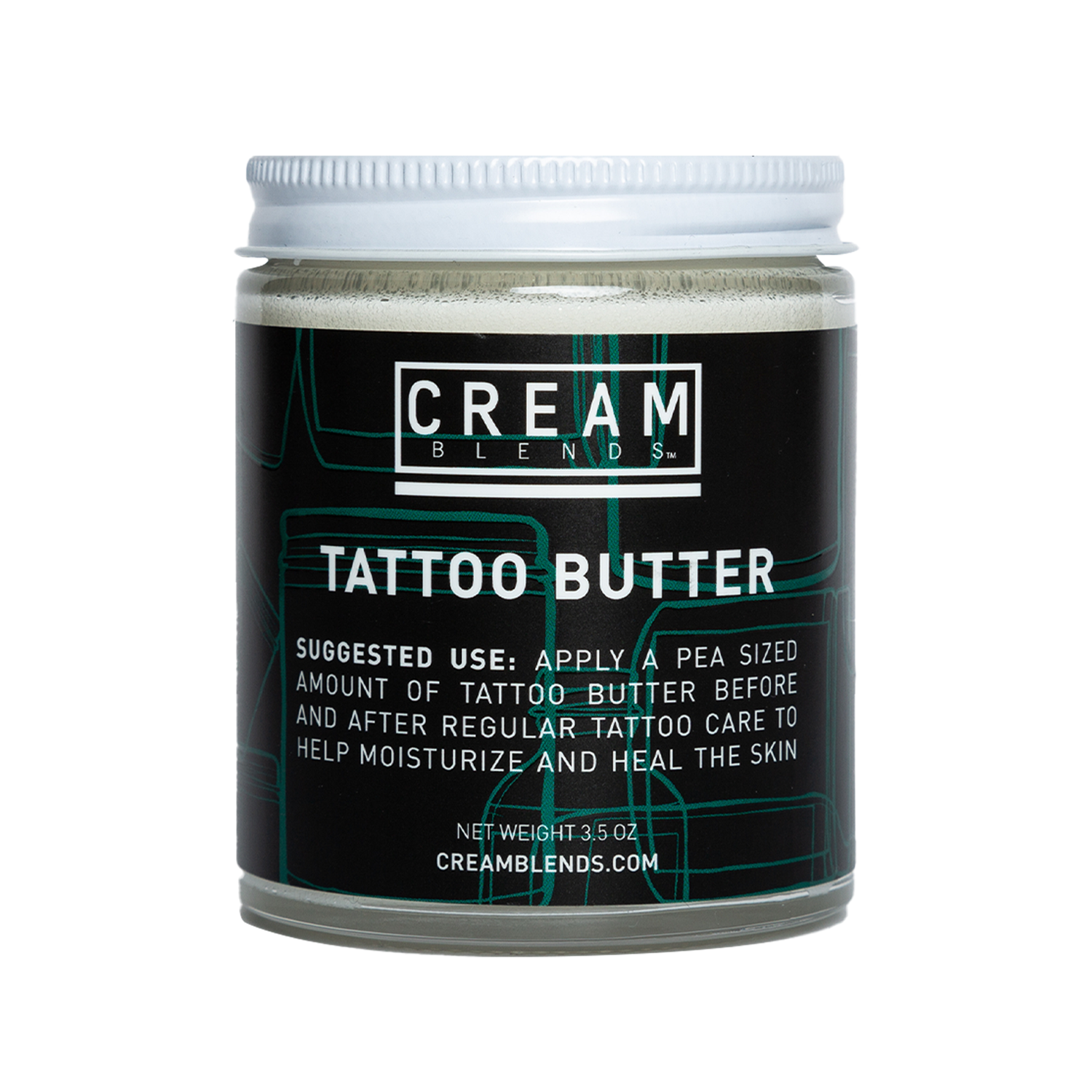 Michigan-based skincare company CREAM BLENDS partners with Lorri Thomas of LadyL Tattoos on a new moisturizing Tattoo Butter. The two woman-owned businesses recognized the importance of healthy skin before and after tattoo care and partnered to create a lane for Black-owned tattoo products in the skincare industry. CREAM BLENDS specializes in creating quality, natural skin care products for the last nine years and were on the shelves of the world's largest organic market, Whole Foods for over five years before becoming an exclusive Direct to Consumer brand. Lorri  is also the founder of The Ladies of Ink Tour after becoming disillusioned with the representation of Black women tattoo artists. The Ladies of Ink tour includes Black tattoo artist from all over the world with a collective following of over 1million on social media.
DESCRIPTION

Our 6oz Unscented Tattoo Butter is great for before and after tattoo care. We added triple the amount of Vitamin E to support healing and restoring the skin. We found that tattoo artist can tell when a customer already takes good care of their skin by the way the blade reacts when it is applied. Skin tends to flake up more when it is dry. The tattoo butter can be used all over the body. Net Wt is 3.5oz.
SUGGESTED USE

Start with a pea sized amount of body butter, melt between palms and apply to desired areas. Repeat twice a day or as needed. Use a small amount so your skin isn't too oily. 
INGREDIENTS

Butyrospermum Parkii (Shea) Butter, Cocos Nucifera (Coconut) Oil, Prunus Amygdalus Dulcis (Sweet Almond) Oil, Vitis Vinifera (Grapeseed) Oil & Alpha Tocopherol (Vitamin E) TRIPLE THE VITAMIN E for healing!!